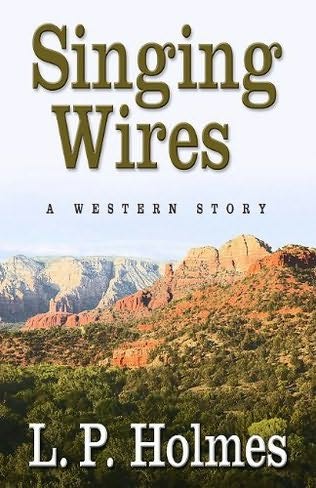 This western story is one that draws the reader into the tale and keeps him involved and working on the problems of the main character Clay Roswell. This is the type of story that keeps me going and pushes me to the conclusion of the story no matter what time of night it is. These stories are really the type of westerns that I visibly remember as a boy and I still enjoy them now as a man.
Clay is initially interested in the western romantic job of Pony Express rider. He is told that it is something that is and will be gone just as soon as the telegraph wires are connected. He is disappointed, but is directed to the man who is working on the job of string the wire. He is sidetracked by his recognition of two men who stole his money, outfit and almost kill him as he slept. Recognition turns to blinding anger and rage as he crashes into them with his total force. He wins the battle, but is restrained from killing them. The person that holds him back from killing these two specimens of pond scum offers him a job on his wire crew. Not just any job, but an important one to keep the wire moving forward, as wagon master, that person charged with the moving of supplies from the start point, over the mountains and across the desert to join up with the wire crew coming from the west.
Clay discovers a ring of thieves that are stealing from the wire company and when the man in charge is reveled he is confronted with a monumental task. The repercussions that happen as Clay unveils the scheme and the person behind it to the owner and boss are those things that change people's lives. Age-old problems in new settings robbery, greed and murder all rolled up in one story. What more could you want?
I recommend this story to all western readers and I am positive that you will enjoy this author L. P. Holmes as he successfully tells a story and has you become involved in it, with the success or failure of our main character.