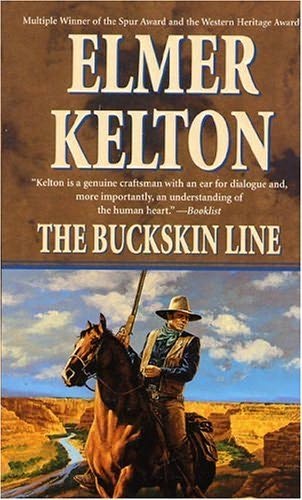 This western novel written by Elmer Kelton highlights his skill as a writer who knows the west and specifically the history of Texas. He is able to use facts in his stories that helps a reader to become involved and curious about the history and times. He gives specific details about things that actually happened and are not widely known,but generate intense curiosity. This story is about the Texas frontier in the 1840's and extends on into the period covered by the War Between the States.
A Comanche war chief, Buffalo Caller has killed many white settlers and during one of his early raids where he massacred whole families he tries to capture a red haired boy of three. His attempt fails and this becomes the inter part of a story about a boys life as he grows older and he is finally confronted with the Indian that had tried to turn him into a Comanche.
The boy was raised by one of his saviors, Mike Shannon and his wife Dora. The boy had known his first name was Davey but not his last so he took the Shannon's name as his own. With his red hair he picked up the nickname of Rusty and was known by that where ever he went.
Rusty was near his father Mike when he was shot in the back while chopping wood. Rusty is positive he know who killed him. Vengeance tries to overtake him but his other savior a preacher gets him an appointment to the Ranger's station located at Fort Belknap. Rusty has the same feeling about the Union cause, as Mike his father had and he seems to gravitate to those who think and feel the same way.
The story is centered on Rusty's life and the decisions he makes and everything that tries to change his mind or direction. I recommend this story to western readers because of the writer's skill and ability to give the reader a story that is interesting, factually based and entertaining. This story turns its own pages as the reader becomes totally involved in the tale.