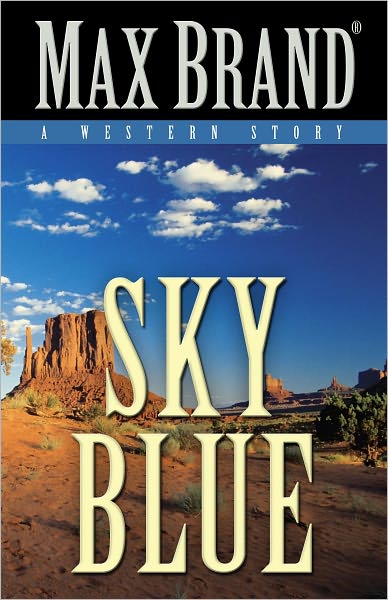 This western story by Max Brand is a tale about how a young man who reached his maturity with the help of a horse that no one, but him could ride. Prior to the introduction of the horse the main character was a worthless lazy whisky-drinking lout. He slept till midday doing little or no work around the farm that his father had sent him to. The thoughtless act of a groom had began the problem for the horse and when Alfred Larribee rode him twice, a spitefully jealous Josiah Ransome slipped a hard spine cocklebur under the saddle blanket and the horse was lost to the rest of the world.
The chase of Blue Sky took on epic proportions. Alfred was almost killed in a confrontation with a Cheyenne war chief called Shouting Thunder. His other two companions Dan Curry and Colonel Pratt owed their lives to this man who loved the horse that was the color of the sky. The four me chase the horse call Sky Blue with the hunger of men wanting the most out of life. The story contains all of the elements of a lifelong chase with friends being set free so that the hunt could continue. A final twist unfolds when the spiteful Josiah teams up with Alfred to execute the final capture of Blue Sky.
This is truly a western story written to hold the reader in complete suspension, as the events of the chase continue and wrap the reader into the tale. I recommend this book to those western readers who want more than just a black and white western.