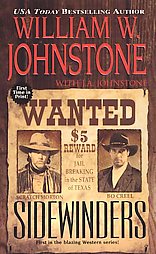 This is a western story that highlights two seasoned partners who have gotten into trouble together many times. William W. Johnstone kicks off a new series of stories and is assisted by the writing of J. A. Johnstone. Scratch Morton and Bo Creel are two likable western characters who get involved in the survival of a stage business. Saving the stage in the first few pages sets the picture for the reader. Things turn out to be much more complicated than they originally appear.
The two western characters are honest easygoing drifters that trouble seems to roll into their lives every day. This by itself would be enough to wear out a normal person but these two campaigners of the west seem to take it in stride. They don't know anything else and they charge head long into any problem that sits in front of them. The struggle of two freight lines draws a line in the sand and conflicts begin. The stage business in the Arizona Territory is marginal at best and the key factor is keeping the mail contract.
The outlaws seem to have inside information and they are always Johnny on the spot to hold up the stage and steal the mail. The stage line that Scratch and Bo align with and go to work for is owned and operated by an attractive widow with two sons. The appearance is that one is good and one is bad. Things are not always as they appear on the surface. Being tough characters the two sidewinders can not stand unanswered questions.  This particular quirk of their characters continually puts them in spots that present them with problems that result in shootings and opportunities that cause them to have conflicts with both good and bad characters.
I recommend this story for any western reader who likes a little mystery with his western stories. I am now in search for additional stories in this series.