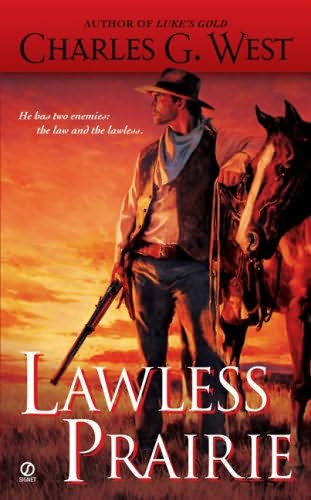 I just finished this book Monday morning after starting it Sunday night.  To keep the records straight I would rate this story as being interesting, enthralling, and very western in activity and a believable account of what probably happened in the early west.  This is a new author for me, Charles G. West, and the story developed in a page turning continuation.
The story begins for the reader with the main character in the Wyoming territorial prison.  Clint Conner was sentenced for turning a horse loose that was being abused.  He had gentled the horse and spent many hours working the horse for his father who saw money in the attractive appaloosa gelding.  The horse was being abused by the owner a territorial judge and Clint couldn't stand it and turned the horse loose.  He was jailed and sentenced by the judge who had owned the horse for horse theft.  Clint got six years in the territorial prison for being compassionate to an abused horse.
Doing stable clean up he was partnered for the day with a notorious bank robber and murder Clell Ballenger and his cellmate.  A jailbreak had been planned and no witnesses were going to be left alive.  Clint faked the murder of a guard saving his life and escaping with the outlaw gang.  Now he was an escaped prisoner and wanting to separate himself from the outlaw gang.  The story climbs many hills and covers much ground in the time frame right after Custer's massacre.  Love is introduced and the story continues to grow with Clint always doing the right thing.
For wide-open country the characters seem to always end up in close proximity.  The story is engaging with many good twists and turns.  I would definitely recommend this book to any new reader of westerns as well as giving a shout out to long time western readers who would like to read a new author of the western story.