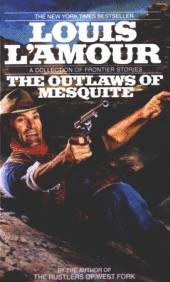 This is a short story in a collection written by Louis L'Amour that gave him ideas for new longer books. This story is about a murder and a man about to being hung for it. Leo Carver was tried and convicted of the murder and he yelled from his jail cell as they were building the gallows "Build it high and build it strong for tomorrow your hanging the best man in Canyon Gap when tomorrow comes!" All of this happened in the first page. I think this was a great intro to the story.
A stage, was attempted to be robbed by Leo Carver but when he saw that the shotgun rider was Mitch Williams he backed off and apologized to Mitch and turned his horse away and rode off. On that same trip later on the first of two shotgun blasts killed Mitch and Doc the guard and driver. No one saw the robber they just heard one man and one horse running away from the robbery.
Leo was arrested the next day. The mystery continues to thicken. There were only five accounted for shotguns in town. Who had committed the murder? The story had some good detective work and everything reveled its self in the end and the town got to hang the bad man.