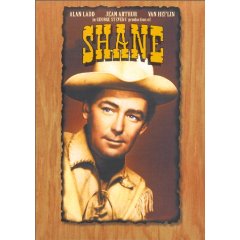 The story is by Jack Schaefer and I have read and reviewed the book and posted it on my blog. The book review made me want to see and the movie again and I'm glad I did.
Allan Ladd – Shane
Jean Arthur – Marian Starett
Van Heflin – Joe Starett
Brandon DeWilde – Joey Starett
Walter Jack Palance – Wilson, the gunfighter
Ben Johnson – Chris Calloway
The movie begins with Shane riding down into the valley and across it to the Starett homestead. Joey Starett observes the final approach of Shane to the homestead as he watches through the brush. The Teton Mountains play an majestic role in this movie as they put into perspective the smallness of every thing else. The country is the big character in this movie.
Shane is in the yard of the homestead when the major rancher, Rufe Ryker,  rides in to stir up Joe Starett.   Shane is seen and discounted as not important by the rancher. This is the point that Shane makes the decision to try another way of life. He joins Joe in his struggle with a huge stump in the close farmyard. The two men succeed and get the stump loose from the ground and push it out of the hole.
Joe Starett is the backbone of the homesteaders in the valley, resisting the large rancher.  Rufe Ryker has lived and struggled in the valley for most of his lifetime. He is unwilling to change and accept the changes that need to be done to develop the valley into a place where families can grow and thrive. Many things happen as the rancher tries to push the homesteaders out of the valley.
The things that happen are the results of on going actions of the rancher and the homesteaders in this movie. The struggle of man's progress features good pushing against evil and the eternal triangle of men and women. The story takes the proper turns and good wins out over evil. The ways of man are hard to change and Shane struggles with his old ways but he falls back into the familiar.   He knows that he is the only one able to survive against the guns of the hired gunfighter Wilson. Joey doesn't want Shane to leave.  Shane knows he has to take his guns out of the valley so that the good can survive and prosper.
This is a classic western story over shadowing the actors and creating the real picture of the struggles in the west. The scenery is breath taking and the music seems appropriate and carefully played to not over shadow the actors or scenery. This is my number one movie in my all time one hundred best western movies. You must see the movie again to really appreciate the impact it has had on all western movies since it was made.