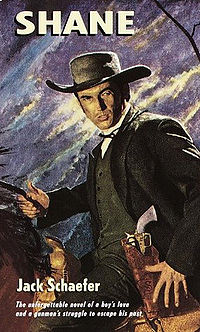 Shane by Jack Schaefer
This book was adapted to a movie by the same name. This is a reread for me. I first read the book in the early fifties and I was greatly enamored by any story about the west. I was looking for cowboys and gunfighters at the time. I did not remember that this was a story about a boy in the west and not just cowboys and gunfighters.
This Western tale is told totally from the eyes and thoughts of the boy, Robert MacPherson Starrett, hereafter known as Bob. The story is set in Wyoming in the summer of 1889. The homestead is more than a farm and Joe Starrett has uncommon ideas, determination and convictions based on his life experience. The house and farmyard is managed by Marian Starrett. She is, by all outward appearances, not your average rancher's wife, but a lady with backbone and strength of character.
The story begins with Bob watching the road and a rider enters his world. The rider comes right up to the ranch and enters the life of these three unsuspecting people of the land. He gives his name as Shane with no indication whether that is a first name or a last one. He shares faint references about where he has been and what he has done.
Bob is taught many important life lessons as he watches his father and Shane interact. The story has the conflict building between the big rancher and the homesteaders that have set up and filed on land along the river, which the rancher feels he needs unlimited access to. The rancher has not moved in his mind and practices toward the changing of the country. Things continue to move toward the climax as the conflicts inside Shane reach a breaking point and he has to return to who he really is, not who he would like to be.
This is a great story and I am glad I reread it. It is short and well written with all of the characters being well developed. The plot is not intricate but true to form for a Western. I definitely recommend this book to western readers, in that it has character and substance of thought. The reader will travel back in time to live the story.